Happy Friday! Here's your High Five (with a special guest star):
Yes, I am home with my children today while my husband prepares for the new school year. He is an adjunct on the campus where I'm a librarian. It's all very romantic.
Anyway, the kids and I have a fun filled day planned that hopefully will include me *not* going insane.
I did my Chest/Biceps/Triceps workout at home this morning. Added a little Turbofire Hiit (20 minutes). Feeling good. No running today.
Here's our fun Blog Hop Today! Are you new? Welcome! Please post and let me know!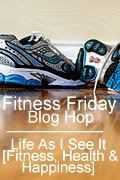 So, today I'll be asking some questions. I'll need you all to answer. Kthanks.
1. What's your current favorite "Can't-wait-to-do-it" workout?
For me, it's weight lifting. I'm kind of crazy about it.
2. The Fall TV Premiere season is coming. I realize not everyone cares as much as me, but if you do- is there a show you're excited about returning?
Well, technically it's not part of the Fall TV season, but Doctor Who comes back tomorrow. I've been literally counting down the days with the same intensity I counted down to my due date last summer when I was hugely pregnant.
Other than that, I think I'm looking forward to Modern Family. Also, I miss Lost.
3. If you have kids, how do you deal with birthday requests?
My son's birthday is coming up and every thing he sees on TV or at the grocery store, he says, "I want that for my birthday!" I think the kid is in for some disappointment, especially since he's requested a Shark cake, and I'm not really much of a fancy baker...
4. Do you allow yourself a scheduled "Cheat" (I like to call it a "Treat")? If so, what's your FAVORITE?
We usually have Family Treat Night on Friday night, where we eat a special dessert. My favorite is chocolate moose tracks ice cream :-)
5. Any special workouts/races/events this weekend?
I am going to run Saturday. No set time or distance. I just want to see if I can still like it.
Have a great weekend! High five!