Happy Friday! Here's your high five!
Got a super fun blog hop going today: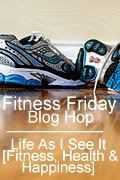 If you're new, WELCOME! Please comment! If you're not new, WELCOME! Comment anyway!
Today I'll be talking about 5 of my favorite things. It's like I'm Oprah, but without giving anything away. Sorry if you were holding out for a car...
1. A Super Challenging, Sweaty, Workout.
That makes me look like this:
Or this:
Or even this:
But hopefully, this:
2. Doctor Who
3. David Boreanaz, Dancing
4. Ricky Gervais singing to Elmo
5. Cute kids.
What are some of your favorite things? You don't have to sing the song... just tell us some things that put a smile on your face!
Have a great weekend!