It's been a while since I blog hopped. I thought it would be a fun Friday thing.
If you're new here, WELCOME! I love you! New people ROCK!
If you're not new, I love you! People who have been here a while ALSO rock!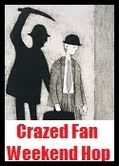 Comment below and let me know if you're a new follower! And HAPPY FRIDAY!