Hooray! It's Friday again! Here's your high five!
I am especially excited about Friday this week. I'm a bit tired from the day-to-day.
I'm doing the usual Fitness Friday hops, so I hope you'll join us! If you're new, WELCOME! If you're not new, WELCOME (again). I love followers... hoping to hit 200 today (tell your friends, wink, wink...)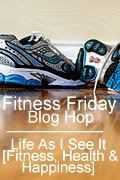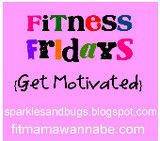 So, let's do some listing. Today, instead of me asking you 5 questions, let's list 5 things that are awesome about our lives. Right now. And go...
1.
I have amazing, cute, healthy, wonderful children
. Yes, my daughter meows, and my son is insane, but they are perfect. (Oh, and I recently started a
Twitter
for my son, just so I can keep track of the hilarious things he says.)
2.
I have a steady job AND a pretty cool extra, fun job
(that doesn't feel like work). I am thankful for the regular income, health insurance, and stability that comes from the regular (Librarian) job, and the friends, motivation, personal growth and paychecks that come from the extra, fun job.
3.
I am 5 pounds away from my goal/pre-pregnancy weight
(and my daughter isn't even a year old yet).
4.
I have recently started running really fast
(for me). I used to strive to hit a 10:00 mile. Wednesday, I ran 3 miles at an average pace of 9:20 (and that included 2 walk breaks).
5.
Starbucks VIA
. Yes, I am thankful for a beverage. Seriously, I don't work for Starbucks or sell their stuff, but VIA really is the best instant coffee I've ever had, and it's made my life so much easier.
So, let's hear 5 awesome things about your life today!
And, just because it starts my weekend off right, here's this: