Happy Friday! Here's your high five!
I am so proud to be a giant nerd.
So, as you may have read, I haz the Harry Potter fever.
In fact, I even found one more Harry Potter-themed pic:
Instead of the normal "Five Question Friday", you know I have to stick with this theme until everyone goes completely insane...
1. Are you seeing Harry Potter this weekend, or have you seen it by now?
My husband and I are hoping to find a sitter and go see it tomorrow. We've done this with every Harry Potter movie. Well, we used to go to midnight showings, then we became grown ups.
2.
Has a Harry Potter book release ever interfered with an important event in your life?
Why, yes. Yes, it has.
The fifth book was released on June 21, 2003. This also happened to be the day I got married.
[If I could find any wedding pictures, they would go here].
I stood in line at midnight after the rehearsal, and got my copy. I went back to the hotel room I was staying in and did my best to read as much as I could. But, darn it, I was tired.
That next day I tried to read but was just too busy :-)
However, our car broke down in the desert on our honeymoon, which would normally be tragic, but I was so glad it *finally* gave me a chance to read...
3.
Okay, I won't ask any more Harry Potter questions. Let's talk fitness. What was your last workout?
This morning, I did "High and Tight" from Brazil Butt Lift. OMG. It was like all the floorwork I loved so much in the old Firms. I am going to hurt tomorrow, and I love it. Running later, at the track, so hopefully I'll have a fun story about
Rudey McRude
tonight...
4. What are your plans for the weekend?
Well, I am doing the usual: Making a large to-do list to catch up on housework, then doing about half of it before deciding a nap would be more fun. And, as mentioned before, we are *really* hoping to go see a certain film..
5. Tell me something cool about yourself.
Since I constantly talk about myself, this is no problem for me. I do it all the time, so I won't be participating. But, I really want to hear about *you*. Brag a little!
Also, I'm participating in my favorite Friday Blog Hop today: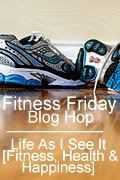 So, if you're new, WELCOME! Please leave a comment!
Have a wonderful weekend, folks!