Hey all,
Happy Friday! Here's your high (middle) five!
I'm participating in this blog hop today: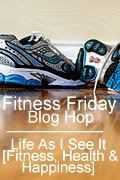 So, if you're new, let me know and I'll be SOOOO happy to follow you back!
I got a little tired this week, and took two days off from working out due to illness... so I have no questions for you today.
But I'll be glad to answer any of yours...
Have a wonderful weekend!