Happy High Five Friday, everyone!
You can even see my nails are painted. I'm high maintenance today..
Once again, time for my favorite Fitness Friday Blog Hop: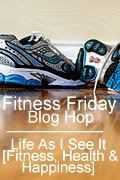 Hop on over. Jill's got a great post today about trying different things. I've never heard of pace tattoos before. Cool...
So, today I'm going to go over the Top 5 things that happened this week. You may have heard these before...
5. I ran my last half marathon for a while
. Oh my. I know I already
told you
and
told you
about it.
4. I did my best to ignore bad news stories.
Apparently, lots of bad things happen every day. I won't list them here. I do my best to stay positive. But for some reason, this week seemed worse than most. Here is what I looked like most of the week:
3. I was on Nightline.
Seriously. There was a story about Beachbody and P90X, and the footage was from when I was in Los Angeles this summer at Summit. You can see me getting my picture taken with my bff Tony Horton and about 3:30...
http://abcnews.go.com/Nightline/video/p90x-star-workout-14758432
2. I had my first Starbucks Salted Caramel Mocha.
It was my reward for finishing the half marathon that I didn't really want to finish. I went all out- full whole milk, whipped cream. The only thing missing was the salt- they were out. It was good, but I think I had built it up in my mind a little too much. I don't think anything could have been as good as I had imagined this drink would be.
And the number one thing that happened this week:
1. Friday arrived!
Yay! Have you ever had a week that just crept slowly by... like a very slow turtle? That was this week. Friday arrived and I was amazingly thrilled to see it.
How about you? How was your week? Do you have fun plans for the weekend? Tell me, I'm nosy!!