Happy Friday! Here's a high five!
Good hair day today, but I'm really noticing how much I look like my mother..
Today I'm participating in my favorite blog hop, so come on over! Or "Welcome!" Whichever fits...
(P.S. Head on over no matter what and you can read Jill's race recap from the Chicago Marathon last weekend!)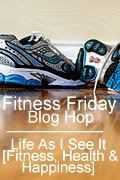 Speaking of races, I have one tomorrow. It's my third and last half marathon of 2011. I don't know why, but I'm a bit nervous. It could be the fact that my husband will be out of town all weekend, so I will be running the half (thanks to a good friend who is coming who will hang with the kids while I run) and then parenting solo for the rest of the weekend. I am really hoping for a nap.
But hopefully after doing this twice before, the recovery will be a bit easier.
My goal is to beat the last race's time of 2:30:34.
This time last year, I had a 6 week old baby, and was just starting to work up to running again. I was about 15 pounds heavier than I am now.
I'm pretty proud of the progress I've made since then.
Here's the formerly 6 week old baby, today, being ridiculously cute:
And here's me (with my other baby) just last night, getting excited at seeing some abs...
In summary- I'm doing my race tomorrow, and then I'll run a little less, but I'll keep running. And I'll see if I can get those abs to pop a little bit more while I'm at it...
So, what fun things will *you* be doing this weekend? And do you think I should clean my mirror before I take any more pictures?