Did I get enough words in that title?
Here's your high five!
Hop on over to Fitness Friday today to meet other folks who *love* fitness....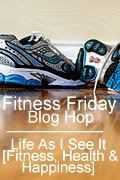 5 things that are awesome:
1. I actually enjoyed a run yesterday
. Shocking. It was raining earlier in the day, and I was afraid my plans for an outdoor run were thwarted... but by the time it was lunchtime running time, the rain had stopped and it was *perfect* running weather. I ran 2 miles with no walk breaks, and didn't feel like I would die. In fact, like I said, I enjoyed it. I guess this is why I keep running, for runs like this. Yay!
2. We get an extra hour this weekend.
Oh hallelujah. I know it's just an hour, but I need it. I'm excited. I'm ready for Fall and Winter. Remind me I said that in January.
3. "Salted caramel" Cream of Wheat
. My glorious breakfast this morning. I am obsessed with the whole "salted caramel" thing, but since I don't have room in my calories or budget for Starbucks, I don't partake much. So, I mixed a little sugar free Torani syrup in with my Cream of Wheat this morning, and some salt, and it was SO GOOD. I'm still reeling from the awesome.
4. Did I mention it's Friday?
I am so ready for the weekend, even though with two small children, the weekends are often as busy as the week. I have a ton of housework to do, plus the parenting... but I just feel like I need to catch up.
5.
David Boreanaz.
I'm just thankful he exists.
I love you, too Sarah. In your mind.