Happy Friday! Here's a High Five for you!
This week has been a crazy week, but honestly- when is it NOT? I had several nights of sleep deprivation, and somehow made it to Friday, so I'm thankful!
I'm back to blog hopping today: Hope you can join me! If you're new, WELCOME!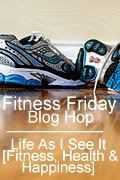 I've had a great week workout wise. I even ran twice so far :-)
Tomorrow, I'm going to attempt my last "long" run before the half on Saturday the 24th. Not sure how it will go, considering the last "long" run I tried turned out to be 4.5 miles. But, I'm pretty sure I'm going to do the race, I just don't know how long it will take me.
What's something cool that happened in *your* world this week?
Have a great weekend!